The Buzz About The Caprice
Pacific Sun

We are thrilled to announce that The Caprice has been honored with the prestigious "Best Romantic Dinner" award in the Pacific Sun's Best of Marin 2023 issue!
Marin Living Magazine - "Where We'll be Dining in 2023"

The Caprice - 2000 Paradise Drive, Tiburon

The Caprice is settling into a new chapter with new owners, Jerry (Salito's, Stinking Rose, The Franciscan) and Jennifer Dal Bozzo, a new design and a new menu celebrating comfort food favorites from the land and the sea like bone-in filet mignon and the signature dish, Abalone Dore.
Marin Independant Journal - "Where to dine in or takeout in Marin on Christmas Day"
While most restaurants in Marin are closed on Christmas Day, there are still several options for those who don't celebrate or who prefer having the holiday away from home. From takeout meals to traditional feasts, here's a list of possibilities, categorized bycuisine. cuisine. If you're aware of any I've missed, please share in the comments.
• Salito's Crab House & Prime Rib in Sausalito is open at 1200 Bridgeway from noon to 8:30 p.m. Visit the salitoscrabhouse.com for th menu and to book a table or call 415-331-3226.
• The Caprice at 2000 Paradise Drive in Tiburon will serve lunch and dinner on the waterfront from 11 a.m. to 8 p.m. Find the menu andmake make a reservation at thecaprice.com or call 415-435-3400.





Marin Magazine - "Thinking About Ordering In This Christmas? 9 Marin Restaurateurs Share Their Most Popular Dishes for the Holidays"

Photo courtesy of Jacquelyn Warner
While we all love home cooked meals — shared with our loved ones — sometimes, as in nowadays, take-out can equal love, too. Here are a few Marin restaurateurs showcasing their most popular dishes for group dining that can be ordered during the holidays.

The Caprice - Tiburon
A longtime favorite, special occasion spot, since Kirby Atterbury, a Hemingway-esque bon vivant opened it in 1956, the latest iteration lead by Jerry and Jennifer Dal Bozzo, has put it on the "bucket list" map.  

Dish featured and what makes it special.
Our Italian potsticker, made with savory sausage, ginger and vegetables. It's so unique and also the perfect takeout dish — just plate it, pour the sauce over it, and voila!
Besides what you brought, what are your most popular take out items for holiday entertaining?
Asparagus soup, crab and smoked salmon crostini, toybox tomato salad, Caesar salad, farro arugula salad, foggy wharf crab salad, gnocchi with crab and spinach fondue.
What are you looking forward to this holiday season?
Enjoying time with close friends and family, eating seasonal soups and hearty meals, and decorating The Caprice in Christmas fashion.
SF Bay Times - - "Bits and Bites"
"I had the pleasure of meeting the other night with my good pal Kevin Blum (of The Marin Dish fame) at Tiburon's gorgeous The Caprice. Dining on the water with the panoramic view of San Francisco Bay and Angel Island, the restaurant is a gem: the contemporary, upscale, beachy design makes me think "Malibu by the Bay." From the moment you arrive, you're greeted warmly by owner Jerry (who also owns The Stinking Rose in San Francisco). Kevin liked his tasty watermelon margarita, but I, of course, opted for their Negroni: perfectly balanced and a great way to start the meal.

Since we were dining with friends, we decided to share. Braided fresh epi bread followed, along with a yummy, spicy tuna carpaccio with ponzu sauce, and then a homemade asparagus soup (with no cream, where you really taste the vegetable). Spicy Italian pot stickers also hit the spot as did the Caesar salad with a surprising pesto base. For our mains, we split a fresh-from-the-sea branzino in a lemon herb oil sauce. We ordered the creamed spinach (one of the Bay Area's best) and cremini mushrooms as sides. Our vegetarian friends split haricot verts and an assortment of grilled vegetables that looked divine. Kevin, Sean, and I also tucked into the restaurant's Omaha Angus ribeye steak, cooked perfectly and better tasting than many of the San Francisco steakhouses that specialize in beef. Blueberry pancakes and a dense, creamy cheesecake were the perfect cap to a glorious meal. Ask for Sean, our server: from start to finish, he choreographed the evening superbly. Put The Caprice on your go-to list: it's only a 30-minute drive over the bridge, and a world away.
Marin Magazine - "Restaurant Profiles 2022: The Top Places to Eat Out in Marin and the Restauranteurs Behind Them"
Did you know that San Francisco's most romantic restaurant hideaway is in Tiburon?

On any given day, guests can watch the sunset over the Bay, with its breathtaking views of the Golden Gate Bridge and Angel Island with the fog rolling in, the city lights sparkling in the distance. It's a recipe for romance that cannot be replicated anywhere.

Enjoy a spicy Margarita with the fresh lemon abalone Dore, or sizzling prime ribeye steak with a pickle martini.

Now under new ownership, this recently renovated mid-century, contemporary chic establishment captures romance and the water views like no other restaurant.

Dinner Mon-Sun 5-8

Lunch/brunch Fri-Sat-Sun 12-4 Evening Valet Parking

2000 Paradise Drive, Tiburon. 415.435.3400.




Pacific Sun - "The Caprice: Tiburon taste with a view"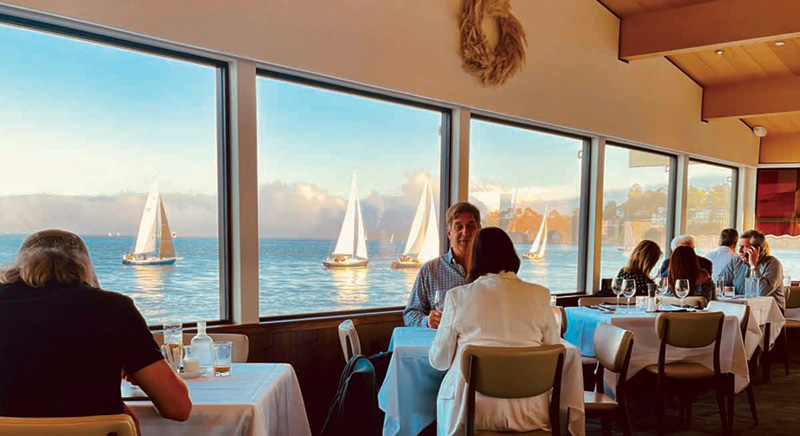 "Dining" is a mere verb; "fine dining," however, is an entire concept.

It encompasses everything from gustatory artistry, design, ambience, and, dare I say, romance. This is what Tiburon's landmark restaurant, The Caprice, offers in abundance.

In its sixth decade, The Caprice continues to be a Marin County institution, now under the stewardship of Jerry and Jennifer Dal Bozzo. A restauranteur with a number of iconic dining experiences to his credit (Salito's, Stinking Rose, The Franciscan), Jerry Dal Bozzo was keen on preserving what made The Caprice so special in the first place.

"I have always had an attraction to The Caprice because of its unique location and all it has to offer—romantic, views, location, etc. We began spending more time in Marin, The Caprice became available, it was serendipity," he said. "Considering The Caprice is an institution with which so many people have history, it was important for us to maintain the name and the intimate nature of the restaurant, yet better capture the views."

An extensive remodel was overseen by Jennifer Dal Bozzo, who designed the interior and exterior buildout, leaning into a mid-century design based on the location's architecture. The new color palette and coastal design underscore the location's signature feature—"its incomparable panoramic views," Jerry Dal Bozzo explained. Simply put, it's an elegant, refined medley of both past and present that boasts a sun-kissed dining room and not a bad seat in the house.

The building is not all that was redesigned. The menu also received an overhaul.

"The menu was designed for locals to enjoy simple but unique signature dishes like Abalone Dore, ribeye steak using the best ingredients for maximum flavor," said Jerry Dal Bozzo. "J.C. Becerra is the executive chef and Federico Carrillo is the operating chef, both long time staff members and excellent at their craft. They focus on consistency and perfection of simply prepared dishes that are memorable and have you wanting to come back for more."

Entrées include a delectable branzino with lemon herb oil; the gnocchi with Dungeness crab and spinach fondue cheese sauce; or their signature abalone dore. On the meatier side, the Colorado lamb chops, Kurobuta tomahawk pork chop and the bone-in filet mignon are each spectacular choices. The Caprice also offers a prix fixe menu featuring a fresh mixed green salad, prime ribeye steak and Yukon gold potatoes mashed with zucchini. This is a personal fave and a go-to, should analysis paralysis strike while perusing the estimable menu.

The full bar also showcases a variety of classic and original cocktails, and the wine list brims with astute French and domestic selections—the result of a collaboration with industry veteran Thomas Koehorst. There is a wine for every palate, at reasonable price points.

"Tiburon has so much going on these days," said Jerry Dal Bozzo. "Stroll the charming town of Tiburon's Main Street and (take) a short walk up the shoreline promenade to The Caprice for a romantic evening and who knows…?"

The Caprice is located at 2000 Paradise Dr. in Tiburon. The restaurant is open for dinner and cocktails Monday-Sunday (5-9pm), and lunch/brunch/cocktails Friday-Sunday (12-4pm). Evening valet parking is available. For more information, visit The Caprice on the web at www.thecaprice.com or call 415-435-3400.
The Pacfici Sun - Culture Crush - "Tiburon Gives Back"
Through November, Tiburon's top restaurants and merchants will donate a portion of their sales to the SF-Marin Food Bank to aid in its ongoing efforts to fight food insecurity. To meet the dramatic increase in the need for food, the organization's pantry network distributes food to about 55,000 families weekly, which is nearly double its pre-COVID numbers. The Tiburon initiative, dubbed Tiburon Gives Back, is led by the Tiburon Chamber of Commerce and kicks off with a launch party at The Caprice, one of Tiburon's most iconic restaurants. Guests will be treated to passed apps, live music and spectacular views as they drink wines from Laetitia Vineyard & Winery, Clos Pegase, Sonoma Coast Vineyard and Cosentino Winery. Janet Lee and Bruce B. will be providing the jazzy soundtrack for the evening. Tiburon Gives Back, 5:30-7pm, Wednesday, Nov. 2 at The Caprice, 2000 Paradise Dr., Tiburon. All proceeds from the party will also go to the SF-Marin Food Bank.
Marin Independent Journal - "Giving back"

During November, restaurants and merchants in Tiburon are donating a portion of their sales to the SF-Marin Food Bank. Participants include the Bungalow Kitchen by Michael Mina, Salt & Pepper, Sam's Anchor Cafe, the Caviar Co., the Lodge at Tiburon, Caff Acri and the Caprice.

Help set the Tiburon Gives Back campaign in motion with a waterside kick-off party from 5:30 to 7 p.m. Nov. 2 at the Caprice restaurant at 2000 Paradise Drive. The reception includes passed appetizers and wine pours from Laetitia Vineyard & Winery, Clos Pegase, Sonoma Coast Vineyards and Cosentino Winery. Janet Lee and Bruce B are performing light jazz.

To purchase tickets ($30, $50 per couple), go to the events tab on the Tiburon Peninsula Chamber of Commerce website at tiburonchamber.org. Proceeds for the launch party benefit the SF-Marin Food Bank.
Local Getaways California - "The Renaissance of Tiburon"
If you think you know Tiburon, you may want to think again. Sure, it's a luxe enclave just 30 minutes north of San Francisco — a quaint, sun-kissed, waterfront town with breathtaking views, endless outdoor activities, world-class dining and first-rate shopping — but since the start of the pandemic, there's been a quiet renaissance brewing.

From an upscale, lounge-like cinema to an exploding culinary scene (including restaurant openings by Michelin-starred and celebrity chefs) to posh boutiques, to a $17 million library renovation complete with a spacious new civic plaza, there's so much new to explore in this sanctuary by the sea. Perfect for a day trip or a weekend stay at one of their incredible hotels, The Lodge or Water's Edge — You may think you know Tiburon, but think again — better yet, come see for yourself.


The Culinary Coast

Tiburon's new vitality and vigor may have begun with its exploding food scene, as the influx of new restaurants is what caught the attention (and appetite) of folks from around the region. The small town is bursting at the seams with new epicurean offerings — and from Michelin-starred and celebrity chefs at that.

A longtime favorite and waterfront classic, The Caprice reopened at the end of 2021 after a three-year extensive renovation and full remodel. The fine-dining spot, originally built in 1965, might just have the best views of any restaurant in Marin. It sits over the bay with sweeping vistas of the Golden Gate Bridge and San Francisco. It serves an upscale surf & turf menu with European influences in an elegant space.
Marin Magazine - "Eat the Rainbow: How Color and Restaurant Design Influences Your Dining Experience"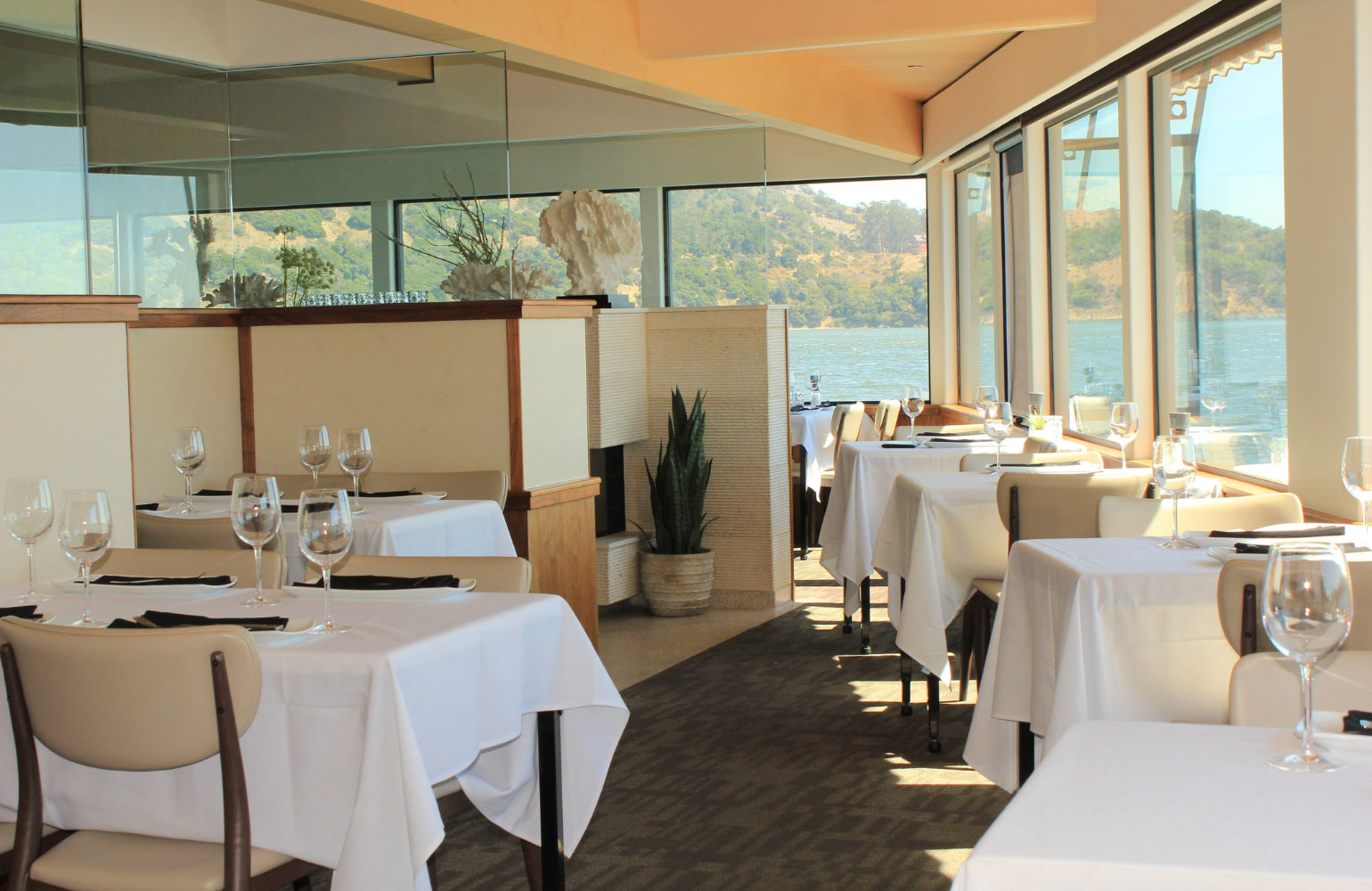 Jennifer Dal Bazzo, owner and interior designer, designed the interiors to complement the stunning views of San Francisco, visible across the bay from every seat. Dal Bazzo chose white as a dominant color for its very clean and fresh appearance. "It also allows the focal points — spectacular views, bar, and fireplace — to become boldly displayed," she says. Like Morrone, Dal Bozzo had a vision for the floor: terrazzo tile was chosen for its color schematic, which resembles a sandy beach. Complementary colors of beige and peach with walnut and maple woodwork reflect serenity and warmth.



Marin Independent Journal - "Restaurant review: Views and more at Tiburon's remodeled Caprice"
The Caprice restaurant perches over the water just on the edge of Paradise Drive to to the left of Tiburon's main business street. After its remodel over the last couple of years, I was eager to see the new look. It's lovely, with soft beige walls and chairs with dark wood accents, white tablecloths, black napkins and oblong white plates. Terrazzo floors lead past the bar to carpets in the table area. Everything is designed to create a warm, welcoming dining experience.

A friend who had recently been to the Caprice instructed me to ask for table 24 for its great views. So when I reserved my table, I asked if I could secure this particular table. It couldn't be guaranteed, I was told, and guests often have the table numbers wrong. But, when we were being led to our table tucked into the far right corner, we were quietly told that the actual number is 25. Each of the three of us had simply fabulous, panoramic views of the bay from Angel Island to past the Golden Gate. That said, every table is privy to some incredible views.

We settled in to make our choices and check out the wine list, which concentrates on reds ($49 to $5,099), featuring mostly the heavy hitters from Napa and Sonoma counties. There are a few whites more moderately priced ($49 to $129). We selected a Groth sauvignon blanc ($49) that we thought would go well with our menu selections.
Fresh Acme Epi bread and sweet butter ($2) were ordered for the table.

Spicy steamed mussels ($19) are listed as a starter, while the tuna carpaccio ($18) and no cream asparagus soup ($10) are under appetizers. I don't understand the difference, but perhaps since my dining guests were Londoners it was an unconscious nod to them since starters is what you see listed on English menus as appetizers.
Although the PEI mussels are flavored with both 'nduja, a spreadable, spicy salami from Calabria, and Calabrian chilies, they were not spicy at all. Thy were accompanied with a couple of long croutons to soak up the tasty mussel sauce.

Vegetable-thickened no cream of asparagus soup, perfect for the lactose intolerant among us, allowed the full flavor of the asparagus to shine. The soup is garnished with crouton cubes and herbs.

Paper-thin slices of ahi tuna carpaccio covered the oblong plate, glistening with arbequina extra-virgin olive oil and studded with jewels of chives and brunoises of red peppers and green jalapeños. Such a pretty plate and equally as delicious.

When we placed our order for the remaining items, our excellent server picked up on that we were sharing everything, tapas-style, and brought each item to the table after deftly clearing and replacing the plates and utensils.

Meanwhile, the sun was passing beyond the Golden Gate while the lights of San Francisco were twinkling to life across the bay.

The crab pancakes ($28) are on the lunch/brunch menu but available any time, as is everything on the menu. Three traditional puffy pancakes with crabmeat in the batter and more crab on top are napped with chive butter. Well done and tasty, but I had expected something a bit more savory.

The three seared sea scallops ($32) were plump and juicy, topped with traditional basil pesto with pine nuts. If we had been ordering in a different manner, either the haricot vert ($9) or the roasted vegetables ($9) would have been good sides to the scallops.

Our final course was the gnocchi ($29). A more-than-ample portion arrived with a highly-cheesy sauce flecked with spinach. Bits of crab are among the gnocchi, but lost in the richness of the sauce. The gnocchi could easily be a shared dish and in our case, was.

The menu offers many opportunities to indulge in one of the outstanding red wines on their list. Colorado lamb chops ($49), kurobuta tomahawk pork chop ($49) or bone-in filet mignon ($69) would pair nicely with one of the reds.

Our lovely evening came to a close with a slice of Auntie Em's lemon tort ($10, as are all desserts), a homey, lightly lemony dessert of shortbread crust topped with lemon custard in turn topped with pine nuts, almonds and powdered sugar

It will be interesting to watch the Caprice as it fully develops under its new owners and staff.

Ann Walker is a freelance food writer. Email her with suggestions, comments and questions at ijfoodwalker@gmail.com.
Local Getaways - "Tiburon, the Luxe Marin Enclave, has Become a Foodie Destination"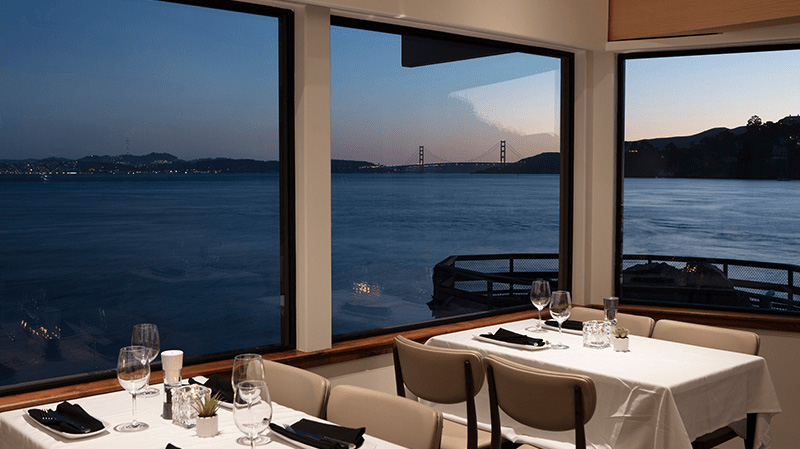 Tiburon's sizzling restaurant scene also includes new ownership for The Caprice, a fine dining restaurant that has been in Tiburon for almost 60 years. Located a short romantic bayfront stroll from downtown, The Caprice is partially cantilevered out from rock outcroppings thereby providing memorable views of Angel Island, San Francisco and the Golden Gate Bridge. "Our niche is contemporary craft food," says current owner Jerry Dal Bozzo, a respected San Francisco restaurateur famous for the venerable Stinking Rose on Columbus, The Franciscan in Fisherman's Wharf and Sausalito's Salito's. After Dal Bozzo and his wife Jennifer purchased The Caprice in 2017, they set off on a lengthy renovation and expansion that gives every table a spectacular view. The Caprice re-opened in early 2022 and will be open for dinner 365 days a year; lunches Fridays thru Sundays starting at noon. Popular menu items include Abalone Dore, Branzino and Kurobuta Tomahawk Pork Chops.



LocalGetaways - "Under the Radar Food Towns in the Bay Area"

Astonishing bridge-to-bridge views from every seat are just part of the charm of this newly reopened restaurant. Abalone doré is a must-order and, while crab is in season, the crab omelet with white cheddar and spinach is the meal you did not know you needed in your life. thecaprice.com
After a three-year remodel, the restaurant and bar with epic views at the far end of Shoreline Park from downtown Tiburon reopened on November 1. Owners Jerry and Jennifer Dal Bozzo and Dante Serafini preserved the charm and character of the restaurant while expanding the ability for views from every seat. The revamped menu of well-crafted comfort food includes land (bone-in filet mignon, French onion omelet) and sea (gnocchi with crab, abalone dore) options, classic cocktails and a wine list featuring mostly American, Italian and French bottlings.
2000 Paradise Drive, Tiburon; 415.435.3400
Restauranteurs Dante Serafini and Jerry Dal Bozzo with his wife, Jennifer, have wrapped up their nearly three-year extensive renovation and full remodel of Tiburon's Caprice, a classic, fine-dining spot built in 1965. Reservations are available for the Nov. 1 opening.
Jennifer Dal Bozzo led the design effort that optimally takes full advantage of the restaurant's waterside location, further expanding views of Angel Island, San Francisco and the Golden Gate Bridge by opening areas of wall and replacing a floor-to-ceiling brick fireplace with a lower and sleeker travertine stone design.
The dining room is slightly larger with extra space borrowed from the kitchen. And although the downstairs bar is no more, the one upstairs has been extended to accommodate nine stools.

The Caprice in Tiburon offers stunning views of Angel Island, San Francisco and the Golden Gate Bridge. "The design is mid-century coastal as the architecture lends itself to that," says Jennifer Dal Bozzo of the sophisticated setting. "It's meant to be a very intimate dining experience."

Soothing beige tones, polished wood finishes and crisp white tablecloths draw attention to the panoramic backdrop.

Although the Caprice holds on to its special occasion status with prices to match, she says the intention is to keep the "well-crafted comfort food" menu familiar for the restaurant's long-term loyal followers.

Jerry Dal Bozzo collaborated with executive chef J.C. Becerra and chef Federico Carrillo, both of whom he's worked with on menus over the course of his expansive restaurant career.

Seafood dishes like tuna carpaccio with chives, jalapeño, olive oil and ponzu; crab salad with wonton crisps; soy pancetta-wrapped scallops; and abalone with fresh lemon butter are balanced with the heartier kurobuta tomahawk pork chop; Colorado lamb chops; and bone-in filet mignon. A selection of sides is sold separately.

The restaurant restoration veteran and visionary team of Serafini and Dal Bozzo is best known for San Francisco's the Stinking Rose that they opened in their native neighborhood of North Beach in 1991, adding a Beverly Hills location five years later. The restaurant served its popular kitschy theme and garlic-fueled menu for close to three decades before closing in March of last year along with the Old Clam House (as in 160 years old) that they reopened in 2001 in Bayview.

The team also co-owns Salito's Crab House & Prime Rib in Sausalito; the Dead Fish Restaurant Crab House and Prime Rib in Crockett; and Calzone's, the Franciscan Crab Restaurant, Frankie's Pier 43 and Osso Steakhouse in San Francisco.

This time around, the Dal Bozzos, who are Ross residents, wanted a worthwhile project closer to home, plans of his pending retirement aside.

"My husband was familiar with the Caprice from way back when and always thought it was an extremely unique location," Dal Bozzo says. "The moment it became available, it piqued his interest."

Beginning Nov. 1, the Caprice is open from 5 to 8 p.m. Mondays through Thursdays and 11 a.m. to 8 p.m. Fridays through Sundays at 2000 Paradise Drive in Tiburon. Find the full menu and make reservations at thecaprice.com or call 415-435-3400.

Click here for full story.
The Ark - "The Caprice preserves romantic, coastal charm in remodel under new owners"

The Caprice restaurant will reopen Nov. 1 under new ownership after undergoing a major three-year remodel.
The 65-year-old special-occasion favorite, located at 2000 Paradise Drive adjacent to Elephant Rock fishing pier, will be open 5-8 p.m. Mondays-Thursdays and 11 a.m.-8 p.m. Fridays-Sundays and is taking reservations at thecaprice.com and through Resy. The menu will feature "craft food," California cuisine inspired by owner Jerry Dal Bozzo's Northern Italian roots.
The Bay Area restaurateur and his wife, Jennifer, purchased The Caprice in 2017 and closed it down early the following year to reconfigure and refresh the interior and make some minor changes to the exterior to comply with fire and health codes.
The Dal Bozzos said their renovation sought to preserve the "bones" of the restaurant interior, which they call "mid-century coastal," because they know so many people have nostalgic feelings about the place.
One thing that hasn't changed is the restaurant's expansive views of Angel Island, the Golden Gate Bridge and San Francisco. New mirrors on the interior walls mean those magnificent views are seen from every seat.
Click here for full story.